In the previous post, we discussed what are bad backlinks and how to avoid them. In this post, we are going to talk about how to create high-quality backlinks in 2021.
Today we will see what are the best ways to create high-quality backlinks.
All the new SEO's are focused on backlinks only. And all their clients also want how to get a good backlink.
They don't care about:
How the website is looking
How are the UX and UI
Website Speed
You have to be a little creative to create backlinks. Every SEOs has its own different trick by which they generate backlinks.
Municipal Nominee Program For Canada 2021
Bad Way To Make Backlinks | Avoid These Methods
Remember one thing that it is not only important to know the source of backlinks but it is important to know the process.
If you want to create backlinks on the same website, there will be no use.
So you need to watch the whole process carefully.
Today we will talk about the first and largest website which is YouTube.
1: YOUTUBE
This is one of the best website which has huge traffic, high DA PA and loyalty. You will not get backlink through every video on YouTube and commenting on someone else's video will not get backlink at all.
If you have 1000 videos on your channel and you have given a website link in the description of all those videos, that will not count in your backlinks.
Providing a link to the About Us section in your channel will also not give backlinks.
You must provide website information in your video description because you get traffic from people watching your videos. But this count is not in the backlink.
For backlinks, you have to go to your YouTube page: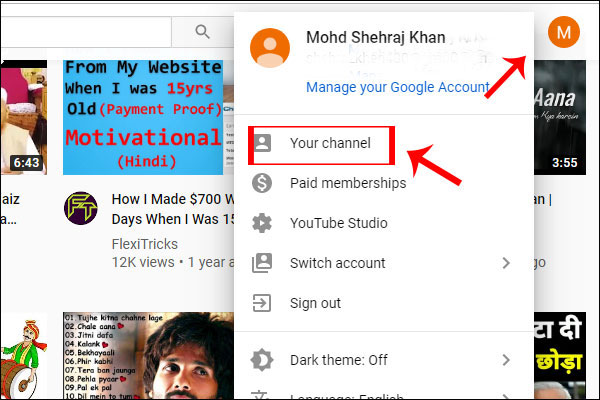 The URL you have given in the video of your homepage will become a backlink for you.
You can also provide some more internal links with the video of your homepage.
Difference Between Technical SEO and On-Page SEO
2: REVIEWS/TESTIMONIALS
Every business also has customers. Like any restaurant's customer, website development company, and customers of any company.
In this way, you can also give your useful revives to each other.
You can share your 200 to 300-word experience in Revives. Together you can give a profile, social media, and your website link.
And all your customers can also do this with you. A bit here to note that Google does not allow link exchanges.
That's why you have to take care of some special things while doing reviews exchange:
THINGS TO REMEMBER
Their relation should be natural
Their website must be safe
Check their spam score, DA PA.
Don't overdo it
3: GOOGLE MY BUSINESS
This is our third way to make a quality backlink. You have to search:
 Step 1 – Search Google My Business
 Step 2 – Go to the website section
 Step 3 – Click on edit
 Step 4 – Fill your detail and link into the summary body
This is a free service of Google by which you can get a quality backlink.
If your business is online only and your Google My Business listing is not there. You can also do this from the local business listings of a friend or relative.
One thing you have to keep in mind here is that relevancy is a must where you are making a backlink.
4: GREAT CONTENT
Its strategy works in the opposite direction. You do not have to run after backlinks but also people link to your page.
For this, you will first need content that is unique, interesting, and related to your field.
If you have a web designing firm, then you can give tips to people to build a fast website.
CONTENT FOR BACKLINKS
Keep it to the point
Create a step-by-step guide
Create a helpful guide/how-to
Create interesting content
Whatever topic you select should be useful. Make sure no one wants to give backlinks to advertising content but people want to share useful content with everyone in their circle.
And if your business and website are completely new, then you can take the help of influencers in that field to promote that new content.
Social media is a good and cheap way to reach influencers.
A relationship is very important for backlinks.
Off-Page SEO 2021 | Full Process Step By Step
How to Rank in Google My Business | Local SEO 2021
Conclusion
As we have discussed in the above post that how to create quality backlinks. Therefore, backlinks are more important for SEO but you have to create only quality backlinks.
A high-quality backlink is more than powerful 100 low-quality backlinks. That's why you should focus on high-quality backlinks.
In the last post, we have already discussed a bad way of creating backlinks. If you haven't seen it yet, please go to my last post and read my post.
If you think that this is useful for you, please share and comment.
Author: Shehraz Khan
Founder of My Digital Post, and I have a passion for all things digital marketing. I hold an MBA in Marketing from the prestigious University of Pune and have been in the industry for over 6 years now. As a Digital Marketing Manager and Blogger, my expertise lies in SEO, SMO, Google Ads, Facebook Ads, and Content Optimization. I love creating strategies that help businesses to achieve their marketing goals and make an impact in their industry.