It's not unusual for people to change careers. Very often, we become tired of what we're doing and want to try something new. On top of that, the times and technology constantly bring new options when it comes to jobs. Digital marketing is one of those new careers that seem great, but some people are still hesitant to pursue it. In this article, we're going to find out all the benefits of this profession. Furthermore, we'll see if there are any downsides so we can answer the question – is digital marketing a good career for you? We're sure you'll find the answers you've been looking for – so keep on reading.
About digital marketing career
Let's define this career first. Digital marketing is about communicating with customers to be able to deliver the best product and services. Brands use digital marketing to promote their products through the internet and mobile technology. This industry aims to find out more about its target customers and create promotion strategies to reach them efficiently. A good marketing strategy attracts target customers, and therefore brings more revenue.
Types of digital marketing methods
This industry has grown, developing several different methods. Some of them include:
social media marketing– using social media platforms to interact with the target audience and promote a brand;
PPC (Pay-Per-Click) marketing – a method where businesses pay for advertisements every time someone clicks on their online ad;
SEO (search engine optimization) – marketing method of optimizing online content to make it more attractive for a target audience. It uses different techniques to compete in search results and earn the top positions in related searches;
email marketing– this method uses emails to promote services or goods of a particular business and interact with the target audience;
mobile marketing– using mobile devices (cell phones, tablets, and similar devices) to promote services and goods;
content marketing – creating different online content, such as blog posts, videos, social media posts, etc., with the aim to provide the target audience with interesting and helpful content and promote a brand, products, or services.
There are more types you can explore, as the industry is developing in different directions every day. This is why this career is becoming more and more popular, and many people wonder if digital marketing is a good career in the long run. marketing provides various jobs and creative workflow.
Benefits of the career in digital marketing
As one of the hottest careers nowadays, digital marketing surely has many advantages. We've made a selection of the most important benefits you should consider before you decide if digital marketing is good for you. You can learn free Digital Marketing through Trendifyworld.
The salary
Let's start with the most wanted information about this career. On average, digital marketers in the U.S. earn about $57,000 a year. However, this number depends on several factors, such as the specific position, level of expertise, experience, etc. Digital marketing is a great-paying job, so it's worth pursuing.
Diversity of jobs
We have mentioned that digital marketing is developing in several different directions. This gives marketers plenty of options to choose from and several paths to build their careers. You can specialize in your favorite field and work in one of the digital marketing fields mentioned before. The bottom line is – this career gives you possibilities to choose.
The job outlook in digital marketing
No matter how good a career is, many people will give up if it takes too long to find a job. Fortunately, digital marketing has a great job outlook. Positions in this industry belong to the list of top ten in-demand careers. So, you can expect competition but also plenty of opportunities. Occupations, in general, have an average growth of 5%, whereas digital marketing is predicted to grow by 10% – great news, right?
Furthermore, certain companies provide multiple jobs from various digital marketing fields. We have spoken to Movers Development who told us that they provide various services related to SEO, but also PPC, web design and development, etc. This shows that you can get a job in a company where you can develop several skills and better understand your talent and preferences. Different fields and various opportunities are what show that digital marketing is a good career.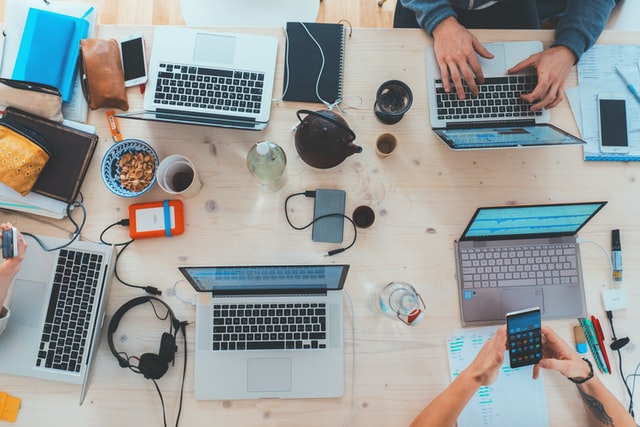 Creativity and independence
What attracts people the most about digital marketing is the freedom. This career allows your creativity to thrive as much as possible. More importantly, you can easily be your own boss, become an independent specialist, and own an agency.
Downsides
All occupations have some negative aspects, and digital marketing is no exception. Some of the disadvantages of this career include:
constant updates – with young careers that are dependent on technology, such as digital marketing, you always need to stay on your toes. Constant updates and digital marketing trends are affecting the trends in the industry, so it requires you to stay informed and develop your skills all the time;
experimenting – as it is a relatively new industry, no one can tell for sure what's a secure path to success. Experiments and risks are the reality of this career, which can be tiring for some people;
education – there are courses and guidelines, but there's no formal education to learn about this field in-depth. However, as this industry doesn't require formal education in that way, this doesn't necessarily need to be a drawback. You can freely research online sources and improve your knowledge just the way you want it;
maintenance costs – due to regular updates and innovations, this job might require you to spend more on new technologies. This results in higher maintenance costs – but maybe also higher salary.
How to decide if digital marketing is the career for you?
Is digital marketing a good career for you? Indeed, it has a lot of advantages. However, making a career decision is solely up to you. Sometimes, even the best jobs are not so great for certain people. Make sure you list your talents, preferences, and skills to decide if this is something you should do for a living. And once you pick a favorite career, a small number of disadvantages will not discourage you, as you will do something you genuinely love.
Author: Shehraz Khan
Founder of My Digital Post, and I have a passion for all things digital marketing. I hold an MBA in Marketing from the prestigious University of Pune and have been in the industry for over 6 years now. As a Digital Marketing Manager and Blogger, my expertise lies in SEO, SMO, Google Ads, Facebook Ads, and Content Optimization. I love creating strategies that help businesses to achieve their marketing goals and make an impact in their industry.