There are some new bloggers who make some mistakes while doing Technical SEO. In this post, I will tell you how to avoid common technical SEO mistakes in 2020.
First of all, we will know about technical SEO and how to do it? Please read the full article because you are going to learn many new things related to SEO.
What is Technical SEO?
This is actually done at the Website Level, commonly referred to as Technical SEO.
It means that whatever changes we have done at the whole website like, install SSL, robots file, sitemap, permalink structure, etc.
1: You Don't Have an SSL Certificate (HTTPS)
According to Google's guidelines, you should use an SSL certificate. The full name of SSL is "Secure Sockets Layer". And websites use it to secure traffic between browsers and web servers.
If any user comes to your website and makes a transaction, then firstly they will check whether your website is secure or not.
So you should not ignore the SSL certificate. The second thing is that you should use a free SSL certificate or paid.
Ignore Free SSL Certificate
This is an important point because you have to avoid a free SSL certificate and use a genuine certificate.
2: Mobile-Friendly Site
As we also know that 70% of searching is coming from mobile. It must be important your website need to be mobile-friendly. New bloggers often make the mistake of not making the website mobile-friendly.
You should avoid this mistake. It is also an important part of Technical SEO.
Difference Between Technical SEO and On-Page SEO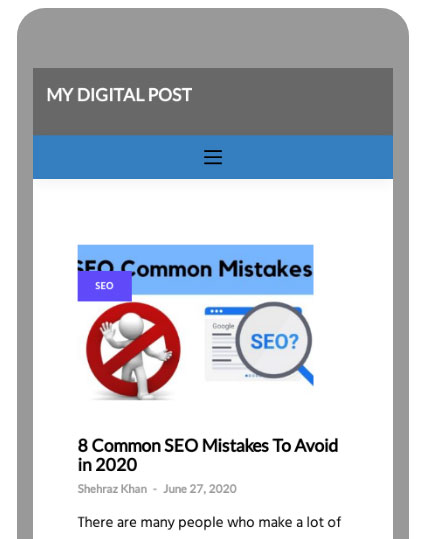 Your website should be open quickly on mobile. You can get huge traffic and more business through a mobile-friendly site.
3: Indexing, Crawlability, and Site Structure
Crawling, indexing, and site structure depend on your Technical SEO. If Google bot had any problem in crawling your website then after that there was a problem in indexing it.
Or if Google bot could not understand your site structure then it means that your technical SEO is messed up.
Technical SEO is very much related to how much your website is being crawled and indexed.
You have to make the URL of your website very smooth so that the search engine can quickly crawl and index your website. You don't need to use a dynamic or numeric URL.
You should avoid these things while doing Technical SEO. This is also a common Technical SEO mistake.
4: Always Use a Canonical URL
You have to do is make sure each page and post on your website is unique. Because this tell to Google which URL to rank.
You can have duplicate content, so through the canonical URL, you have to tell Google which URL to rank. You can also avoid duplication through the canonical tag.
5: You Have 404 Errors
Sometimes it happens that the pages that were on your website are no longer because you have deleted them.
So whenever you go to that page, you will see an error of 404. Some people do not fix this 404 error and your website user experience is bad and create negativity to Search Engine.
So you have to find such pages and redirect them.
6: Robots.txt and Sitemap Files Are Missing
We have to check that these 2 files are missing or not. Robotx.txt files and XML sitemaps both tell search bots on how to crawl your site.
Your sitemap is essentially a list of all links on your site you want Google to index, while robots.txt tells bots which pages to ignore.
You should use a simple robots.txt file, ours is!

User-agent: *: means any search bot who wants to crawl our site can, from Googlebot to Bingbot.
Disallow: /wp-admin/: means we're blocking access to our WordPress admin folder.
It's important to include robots.txt in your site, but formatting errors can hurt your indexability.
The second file is Sitemap.XML which is also an important file. We should not avoid this file in our SEO.
So, these two files are very important in Technical SEO. You should not avoid these 2 files.
How to Rank in Google My Business | Local SEO 2021
Conclusion
As we talked about in this post, how to do your technical SEO. Inside it, you have to see whether our Google search console is working properly or not.
How many pages of our website are being crawled or indexed? Where are the problems with our URL?
The most important of these is the third point because all your technical SEO depends on indexing, crawling, and site structure.
If you like this post, please share it with your friends as much as possible.
Author: Shehraz Khan
Founder of My Digital Post, and I have a passion for all things digital marketing. I hold an MBA in Marketing from the prestigious University of Pune and have been in the industry for over 6 years now. As a Digital Marketing Manager and Blogger, my expertise lies in SEO, SMO, Google Ads, Facebook Ads, and Content Optimization. I love creating strategies that help businesses to achieve their marketing goals and make an impact in their industry.