Google has made some new changes in SEO in August 2019, Which is very important to know for every Digital Marketer. you all know that SEO and digital marketing is a very fast-changing industry and SEO professionals are busy.
Sometimes there is a problem with the client's keyword research, sometimes the sitemap is giving issue and sometimes the rank is the problem.
So how to follow new trends right now we are going to discuss something related to this. So we'll see here "What are the new changes in SEO August 2019"
1. Google Webmaster Central Blog
Which shows Official news on crawling and indexing sites for the Google index. With the help of this, you can identify the nature of links that are very useful for SEO.
There are many changes in the new search console like Saying goodbye to the old Search Console, Introducing Auto-DNS verification in the new Search Console. Our testing tools reflect how Googlebot processes your pages as closely as possible.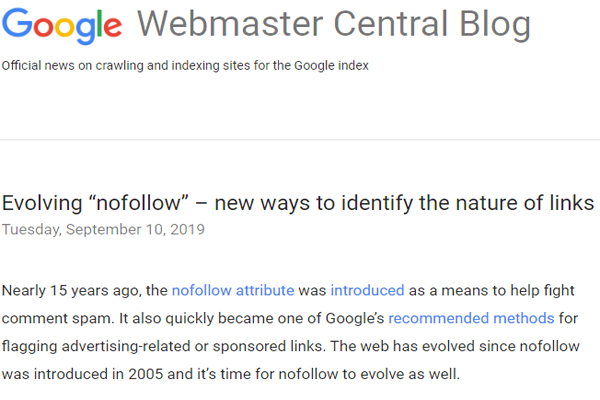 you can check your website by the help of following tools
2. Ask Google Webmaster
Google Webmaster Tool Analyst John Mueller has explained about Ask Google Webmaster Tool, that all the hits and visits your websites get from Google voice search will not be visible in search consoles as rich snippets are generated from your website and A user sees it.
So whether they visit your website or not, it is counted as an impression and shows up in your search console report but when someone searches from a voiceable smart device like Google Home or Google Home Mini and Google your website Repatriates information from So no credit or record of it shows up in your search console.
I hope Google starts showing it early because the smart-enabled devices are growing and the traffic coming from Voice Arches will also increase.
3. Google My Business Listing
A new look test of Google My Business is underway, which you can see in this screenshot, Google My Business Aids is showing full length and half of the natural ranking website is visible.
Meaning that the race which was yet to come in the top 3, now it will be shortened and will remain in the top 2, although it has been different only till now.
And I hope that Google does not make it to the finals, so update your GMB profile website Keep. Some peoples are using the website without an SSL certificate which is very harmful and they will not rank. So, please use the https or SSL certificate.
4. Google Image Search new Look
Google has launched a new look of image search, now a preview of any image is opened which gives a link to its original page but is currently focused on generating website traffic, only the link of the page does not show.
Rather the name of the website is also shown separately if the image is of a product So its price, its brand, its average star rating and the count of revisions are visible and whether or not it is in stock.
You also get this information and this sari information is available from your website and from the schema data available on your website, so on the schema data Focus and correct it.
5. Google My Business Hotel Listings
The listings of hotels in Google My Business can now go to the Attributes section and add the facilities and services of their hotels. There are 2 benefits to this service.
People who are searching for your hotels can see all the facility's services of your hotels on the search page only.
Google can make your hotels accessible to the users searching for those who are blurring the special facilities you are providing in your area.
How to add Google Maps to your WordPress Website
6. Delivery options in Google Ads
Google is going to discontinue the Oxalatori delivery option in Google Aids, if you are using the Oxalatory delivery option in your campaign, then from October 1 it will be automatically changed to standard delivery.
If you do not understand these delivery systems of Google AIDS, then you understand that if you set your Google AIDS budget to 500 rupees per day, then Google will try to run these 500 rupees all day in the standard delivery method.
And every hour of the day, your Ads will be shown many times to some people, but in the accelerated delivery option, Google Ads will start spending your 500 rupees Ads from 12 noon.
And whenever your Ads time starts in the day and till then your Ads will show until your budget of 500 rupees is exhausted, then this is the second option Google is going to stop.
Author: Shehraz Khan
Founder of My Digital Post, and I have a passion for all things digital marketing. I hold an MBA in Marketing from the prestigious University of Pune and have been in the industry for over 6 years now. As a Digital Marketing Manager and Blogger, my expertise lies in SEO, SMO, Google Ads, Facebook Ads, and Content Optimization. I love creating strategies that help businesses to achieve their marketing goals and make an impact in their industry.