Teaching and online courses are the new educational standards. The online teaching industry is growing at a rapid pace. All this is due to technological progress and widespread use of the Internet. Online learning experiences are fun for both parents and students. Let's discuss how to start online tuition at home.
Why Now Is The Time To Grab Opportunity?
The pandemic is spreading, and an increasing number of companies are switching to working from home mode. Schools are closed. Working from home is a challenge for every organization.
Opportunities arose amid this chaos. Teachers are starting to use online classes. Even full-fledged startups have started. As a result, now is an excellent time to start an online education business from home.
The Growth Of The Teaching Industry:
With this global pandemic coming into the picture, people are looking for ways to start an online business. If you are a teacher, it is time to go online.
Formal education has become very expensive in recent years. Apart from schools and colleges, students need personal training to understand challenging topics.
Steps To Start Online Tuition
This step-by-step guide will help you get started in your teaching business.
Understanding the requirements:
Before you begin, you should research the requirements, benefits, and drawbacks of the online tutoring business.
Before developing your business plan, do research and analysis on various areas. As a result, you will have a clear understanding of the industry. You will understand the skills you want to teach learners.
Before you start planning, you might consider the following questions:
How will your competitors compete in the market?
What are the demographics of your target audience?
What exactly is your unique selling proposition?
How will you convince them to choose you at the expense of others?
Online teachers must-have classroom teaching experience as well as a subject-specific certification. This will help you build trust with students and parents.
As an online teacher, you must have the following capabilities:
Excellent communication skills are required to make your points clear and specific.
Subject matter expertise Patience when teaching time management online
Understand online tools
must have a positive attitude
The ability to inquire
1. Select the appropriate topic
As mentioned earlier, before you start studying online at home, you should decide which subject you excel in.
It could be English, Chemistry, Physics, Politics or any other language, among others. Choose a subject that you enjoy teaching and that you are passionate about. Or it could be a topic you still enjoy learning about.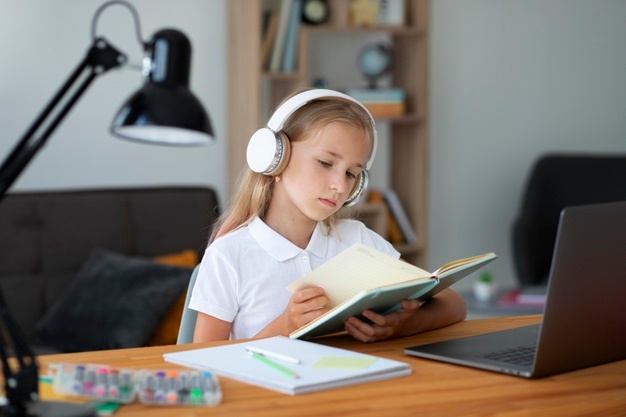 2. Make a Strategy
You will need to create a business plan to have successful and profitable home tutoring. Play on your strengths and find competitors in the market. Tutoring is now used for purposes other than academics. If a person wants to start over 45 with nothing then they can do easily this job. This means that you can also use your skills in music, dance, or art to create assets for your business. Researching competitors will allow you to formulate a better business plan.
3. Make a name for yourself as a good teacher:
Starting an education center, like any other business, will require developing a reputation for yourself. Make sure you can get your students' attention and try not to rely solely on the book.
Thanks to the Internet, many educational aids and videos are now available on the Internet. As a result, incorporate them into your instructions to make your classes more interactive.
4. Set your rates
Pricing your services is an important step, and your market research will help you make the best pricing decision. Since tutoring rates vary by topic, age, and location. You will need to evaluate the market price of tutoring in order to determine the best rate. To build goodwill and attract more students, be sure to provide value for the price you set for your service.
5. Maintain a positive relationship with parents
Parents are often more demanding than students. Even if they annoy you sometimes, it is crucial that you maintain a positive relationship with them. After all, it's your customers who pay you because they hired you to teach their children. You will never feel resentful if you treat them as clients. Remember, word of mouth is the most effective way to grow a homeschooling business.
6. Teaching environment
 You must have a clean and tidy workplace conducive to effective learning. There should be no more than a few sources of distraction. It is essential to dress professionally and give the impression that you are a serious teacher. Tell your roommates or housemates not to disturb you while you are teaching. Creating a disciplined learning environment is critical to the success of your teaching business.
No matter what size you intend to start with, you may need to invest in the following items:
Subject Text Books
Laptop
Mobile
White Board
Pens and Pencils
You can purchase all of these items online from DealMeCoupon by saving your money because they offer promo codes for known shops.
7. Promotion
 Self-promotion can help you build an audience and grab the attention of your users. As a result, you should publish your lessons online. Online teaching is on the rise. As a result, you should place ads in your community to raise awareness. You will be able to attract customers easily in this way. You can also distribute flyers, brochures, and handbooks to introduce people to your online courses. Be sure to include topics.
You must select "English online lessons" to teach English. Instead, you should specify the same for other subjects. Given the high level of competition in free online courses, the first step should be to provide ads.
8. Stable internet connection
Your business cannot start without a high-speed internet connection. Online classes, as a virtual method of learning, require an internet system that is a must and in good working order. This will allow you to easily communicate with students and give lessons to them freely.
9. Maintain and improve your service
The long-term success of your business will be determined by the quality of your services. When you first start, pay attention to what works best and what problems you encounter. This feedbacks will help you remove barriers and improve service quality. Continuous improvement will help you gain a competitive advantage and stay on top of the market.
Conclusion
These days, academic tutoring is in high demand. This is due to the high expectations placed on students. As a result, it is a lucrative business opportunity for qualified and interested professionals. Take a cue from these suggestions and start your home tutoring service right away.
Author: Shehraz Khan
Founder of My Digital Post, and I have a passion for all things digital marketing. I hold an MBA in Marketing from the prestigious University of Pune and have been in the industry for over 6 years now. As a Digital Marketing Manager and Blogger, my expertise lies in SEO, SMO, Google Ads, Facebook Ads, and Content Optimization. I love creating strategies that help businesses to achieve their marketing goals and make an impact in their industry.