TikTok isn't longer just a service for distributing funny videos. It's now setting the pace for popular social culture, becoming an indispensable tool for generating prospects and traffic.  In addition, the dramatic success of this platform has pushed startup businesses to build a TikTok-like app.
If you're wondering how to build a video-hosting community akin to TikTok, this post is for you. Look through it to learn how to initiate your own video streaming app and find project cost estimations.
TikTok App Development Pipeline
Now, let's consider the stages you must pass through to deliver a state-of-the-art video hosting platform akin to TikTok.
Planning Stage
Before embarking on project creation, you need to get prepared.  There is little sense in building a TikTok clone since the existing solution is already well used. Instead, you need to define a unique selling point (USP) to take a leading position in the market. For instance, you can limit your focus geographically and in terms of the options provided. A thorough analysis will allow you to determine a business model and integrate the features that meet customer expectations yet differentiate you from the original product.
Assembling a Team
Having input information on hand, you can appeal to an experienced tech provider with hands-on experience in media and entertainment software development services. Since there is an app prototype, the team will spend less time analyzing the general requirements, thus, focusing more on unique user flow. To make a platform much like TikTok, you can hire a programmer from an outsourcing  IT agency. 
Outsourcing project creation is a common practice among entrepreneurs due to its varied advantages like cost-efficiency and wide expertise availability. The team is assembled according to the project demands, and they take care of all the hassles concerning product development. Moreover, there are no hidden costs or unexpected project abandonment. You're priorly provided with project estimation and all the required agreements, including NDA (as requested).
Choosing Tech Stack
There are a wealth of technologies that can be applied to make such a digital solution. The list will differ depending on your objectives, requirements, type of platforms, and more. Apple-based apps require Swift. Designing native applications for Android demands Kotlin. If you want to deliver a cross-platform solution, React Native is a smart choice. Web applications are based on Angular.
How to get sponsored on TikTok
Building an MVP
Many business owners pass by MVP solutions. They start designing their product fast and face challenges relating to software inconsistency with customers' expectations, functioning overload, lack of marketing strategy, etc. Therefore, it's better to introduce an MVP version to validate your hypothesis, collect early reactions, and speed the market launch. MPV development implies that software engineers implement prioritized functionality and then gradually add more complex ones. 
Here is the set of must-have functionality to integrate:
Signing in
This feature is a bridge between creators and your solution. Users should be allowed to enter the credentials necessary for registration to start posting videos.
Profile creation and editing
This option is about setting up and managing a personal profile. To enhance creators' experience, consider implementing profile customization with various toolkits.
Videos publishing
How to create a service like TikTok and turn it into a profitable asset? Of course, by adding video uploading capability. Make the posting process rapid and straightforward to meet creators' expectations. Besides, integrate sharing capabilities to make it possible to promote the preferred digital content.
Filters & effects
There are many artsy filters and stunning effects you can try on TikTok. So it's vital to add such functionality to your own streaming service platform. Filters options and effects will allow users to modify video/photo looks. Consider adding unique filters to engage more creators.
Video editing
A video editing feature will allow amateurs and professional video editors to experiment with creative ideas.  For example, you can include essential functions like blurring, color correction, hastening the video, trimming, and much more.
Like, comment, and share options
These features are the pivot of every social network. People love to express themselves and present their opinion on a particular subject. Accounting for this intent, you can get a profitable revenue model. To increase advertising coverage, creators should also be able to spread their video content on Facebook or Instagram.
The Ultimate Guide to Branding in 2022
Push notifications
By integrating this function, you can notify creators about audience reactions to their publications or/and any available updates within the app.
Admin panel
Admin board submits you with different management capabilities. For example, you can edit/block creators, collect insights about newly registered participants, count the number of publications, and more. 
App Creation and Testing
After you ensure your MVP idea is feasible, you can advance to the next stage – designing a feature-rich application. It's worth integrating functionality that will further enhance the service and add value to end users. For instance, you can receive a personalized experience with exciting features, such as a powerful search engine, location-based targeting, content previewing before posting, VR/AR capabilities, and analytics.
Once your video streaming service is built, it must be adequately validated to avoid operational flow and guarantee the app meets the most strict quality standards.
Post-Development Actions
After you release your application, you need to scale your client base. Remember that turning your TikTok-like platform into a lead generation tool requires time and effort. So, it's better to start building a loyal community long before the development stage. For example, you can make a landing page to collect emails, reach influencers of your target users, participate in communities, and more. These actions will help you ensure your application won't be a clean slate with no users.
Cost To Design an App Like TikTok: Approximate Numbers 
The average price to develop a service similar to TikTok ranges from $70,000 to $200,000+. Unfortunately, no software development company can't tell you the exact cost until they're familiar with project demands (even if the app has similar features). That's because the project estimation is influenced by numerous factors, such as the team's hourly rates, customization of UI/UX, number of features and their complexity, platform types, project maintenance expenses, 3rd party tools, and more.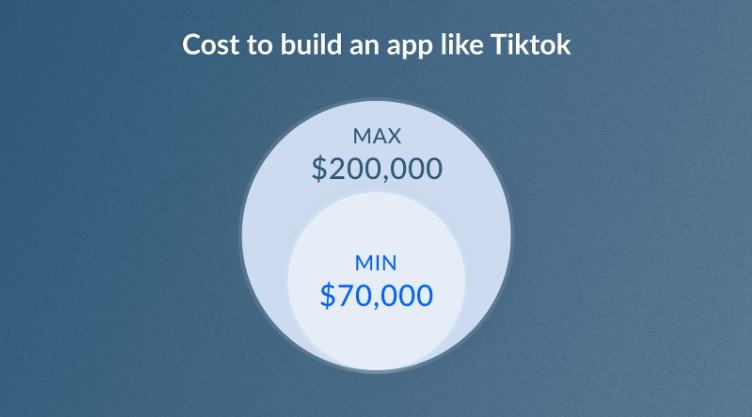 Summing Up
Social network interaction has become a mundane routine for millions of users, and this trend is here to stay. Having your own service akin to TikTok is a great way to keep up with this tendency and earn extra money.
Author: Shehraz Khan
Founder of My Digital Post, and I have a passion for all things digital marketing. I hold an MBA in Marketing from the prestigious University of Pune and have been in the industry for over 6 years now. As a Digital Marketing Manager and Blogger, my expertise lies in SEO, SMO, Google Ads, Facebook Ads, and Content Optimization. I love creating strategies that help businesses to achieve their marketing goals and make an impact in their industry.